Survey Report: How Do Clinicians Approach the Management of Hidradenitis Suppurativa?
Survey Report: How Do Clinicians Approach the Management of Hidradenitis Suppurativa?
1 November 2017
Caitriona Ryan, MD
St. Vincent's Hospital
Dublin, Ireland
Not all dermatologists are dermatosurgeons, nor are they pain specialists, psychiatrists, smoking cessation counsellors, or nutritionists, but when it comes to managing hidradenitis suppurativa (HS), some familiarity in these areas can go a long way to obtaining the best possible outcomes for patients.
PeerVoice surveyed a group of dermatologists to take a look at how practitioners approach the different facets of care for their patients with HS. HS expert Caitriona Ryan, MD, from St. Vincent's Hospital in Dublin, comments on the results.
Question 1: Treatment Approach for Nonresponders
Optimal management of patients with HS requires careful consideration of patient- and treatment-related factors to determine the best course of therapy. How do clinicians approach the management of a patient with HS who has not responded to rifampicin and clindamycin treatment and whose symptoms are negatively impacting her quality of life?
The majority of dermatologists have elected to proceed with adalimumab after the failure of combination therapy with rifampicin and clindamycin. This is in line with the European Dermatology Forum (EDF) guidelines for the management of Hurley Stage 2 and 3 HS. Adalimumab is the only approved medication for the treatment of moderate to severe HS.
Interestingly, 16% of dermatologists would choose isotretinoin. However, isotretinoin has shown limited efficacy in the treatment of HS. Acitretin, another retinoid, appears to provide superior benefit when compared to isotretinoin.
Surgical excision is a good option when medical therapy has failed and the lesions are limited to specific areas. In this patient with widespread diffuse disease, medical treatment has not yet been optimised.
Question 2: Applying EDF Guidelines
The latest EDF guidelines were released in 2015 and provide recommendations on treatment choice by severity of HS. Are clinicians applying these recommendations in their practice?
More than two-thirds of dermatologists would consider a biologic treatment for patients with moderate to severe HS, in keeping with the EDF guidelines. Eighteen percent would consider a biologic for all patients with HS, including those with mild disease—but in general, mild disease can be contained through use of topical or systemic antibiotics. A smaller number of dermatologists used biologic treatment only in severe patients with greater than 2 draining fistulas or those requiring surgery.
Question 3: Managing Pain
Most patients who present with severe HS-related pain are those who have moderate or severe disease that is inadequately treated. Many patients end up on strong painkillers unnecessarily. Using the right pain strategies at the right time is not always obvious. How do clinicians manage severe HS-related pain in their practice?
Eighty-two percent of dermatologists noted that they managed HS-related with routine non-opiate medications, while a tenth of physicians prescribed opiates. There can be problems with HS patients with chronic pain becoming addicted to opiates and sometimes receiving prescriptions from their primary care physician in addition to their dermatologists. In this setting, it is more appropriate to ensure that only one provider is managing opiate analgesics. Referral to psychiatry may also be warranted for depression and anxiety resulting from chronic pain.
Question 4: Smoking Cessation Counselling
Informing patients about the link between smoking, HS disease burden, and treatment ramifications may help in positively encouraging patients to quit smoking. But without guidance on how to do this in practice effectively, patients slip through the cracks. How do clinicians approach the topic of smoking cessation with their patients?
There was great variation in answers to this question. Providing patient education about the detrimental effects of smoking on HS is key. I counsel my patients about smoking at every visit and offer them referral to smoking cessation services.
Question 5: Weight Loss Counselling
Similarly to smoking, obesity is associated with higher HS severity and can impact HS treatment efficacy. Patients need advice on a healthy lifestyle and how to effectively lose weight. How do clinicians approach the topic of weight loss with their patients?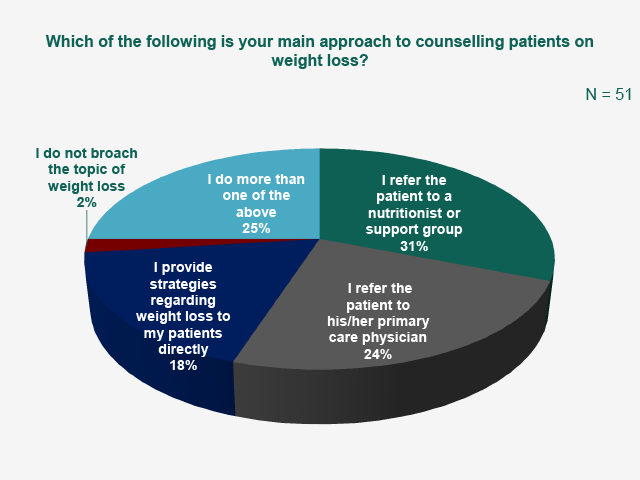 Much like the responses seen with the previous question on smoking cessation, here we find a great diversity of answers. Again, I counsel my patients about weight loss, direct them to weight-loss phone applications, and refer the patient to a dietician if they are willing to comply with dietary advice.